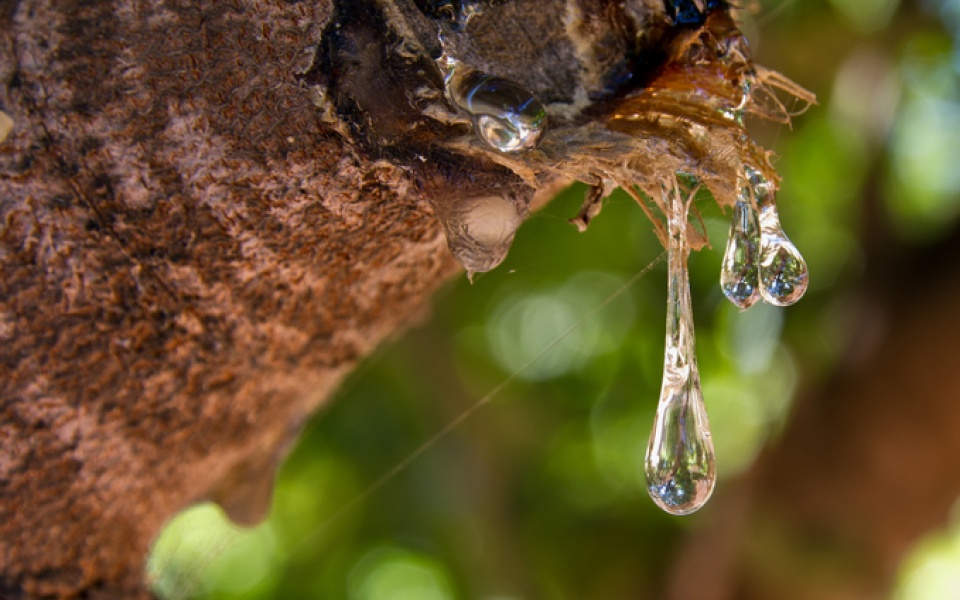 Mastic (Mastiha) is an agricultural product removed by chipping mastic bushes. The product in raw form is available in different grades, 1 to 5, and in different sizes, large tears and small tears. The grades define the purity of the product. Grade 1 is the most pure mastic suitable for humans to eat, grade 3 to 5 is suitable for all other uses and may contain different tear sizes and small tree remains.
Mastic looks like rock candy and has a distinctive taste and chewiness. It is a 100% Greek product, and as such is registered by the European Union as PDO (PGI) name. It is only produced on the island of Chios, in the Aegean Sea, and especially in the Southern part in the Mastic villages or the so called 'Mastichohoria'. Even though people tried to take mastic to different countries in the past, amazingly enough mastic is impossible to grow in any other part of the world except Chios.
Chios Mastic, popular since ancient times, was and still is a highly commercialized product due to its cosmetic, pharmaceutical and industrial applications. During the Ottoman Empire the Sultan used to give the mastic to his harems for fresh breath and white teeth. During the 1960's it was exported to Germany to be used in the shoeshine industry.
Today it is proven that mastic has therapeutic uses to lower cholesterol, prevent ulcers and ease blood pressure. Mastic is also used for Greek delicacies (ipovrixio), ice cream (kaimaki), drinks, baked goods, chewing gum, cosmetics such as toothpaste, lotions for the hair and skin and perfumes.
The best period for harvesting is July and August. After the mastic is collected it is spread out to dry while it is washed manually.