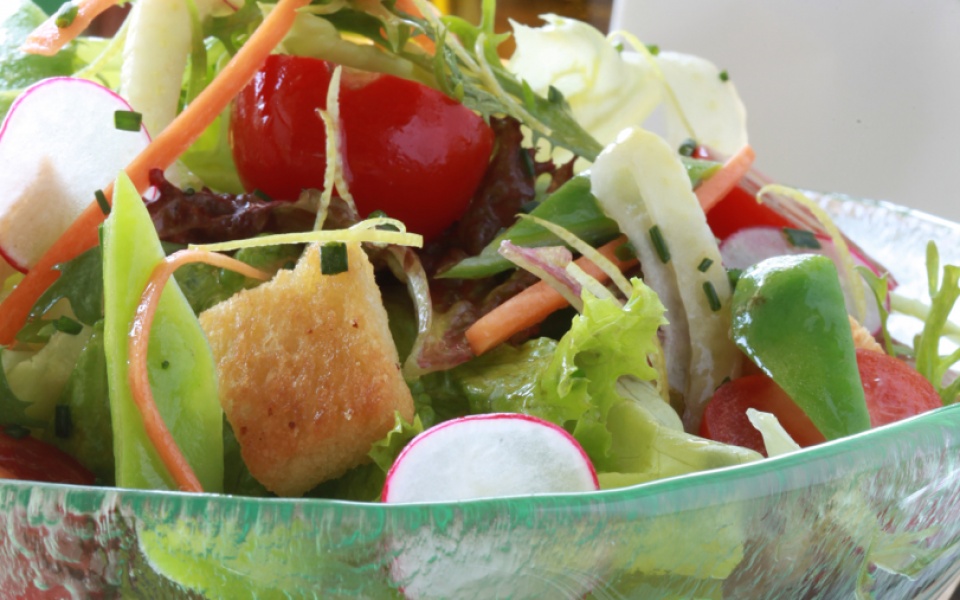 Basic tips for making a great salad, are :

• Use fresh ingredients: Since cooking is minimal in salads, one cannot 'hide' mediocre ingredients. Also, if ingredients are cooked, they must (according to type) be used and consumed immediately.

• Use vinaigrette sparingly: The appropriate quantity will give your salad the desired intensity of flavor without weighing it down with oil. It is usually sufficient to see the salad greens ingredients gain a light luster. Images of small… pools of oil at the bottom of the salad bowl (as in our favorite Greek salad) are an exception and should remain thus. The advice mentioned above is more relevant to salads consisting mainly of leafy vegetables.

• Marinating and correct serving temperature: Some salads (e.g., made with legumes, pasta and vegetables), should be prepared and allowed to marinate for some time (from a few hours to a whole day) before being served. If you choose to leave such a salad in the fridge, it is best to remove it from the fridge for a while before serving to arrive at room temperature.

• Preparation time: Differs according to the type of salad. If prepared way in advance of serving, leafy salads are ruined. The acid in the vinaigrette wilts the salad greens and makes them unusable. For a good salad with leafy vegetables, prepare all the ingredients in advance and mix them just before serving. The only exception is cabbage and some recipes such as coleslaw which require some marinating.