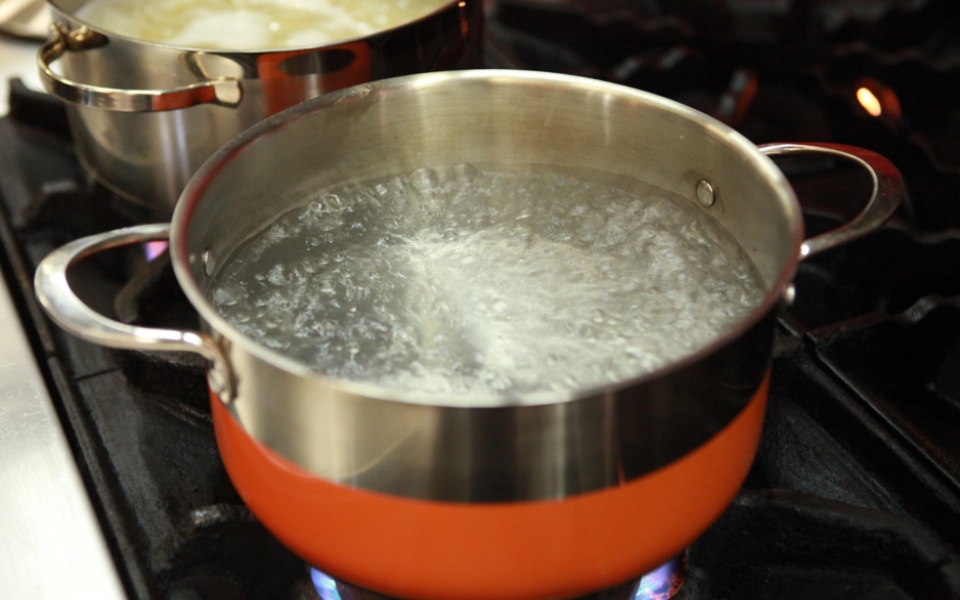 Vegetables are not only very nutritious but also very tasty if cooked properly.
Described below is the process for boiling vegetables and, specifically, delicate green vegetables. This method ensured tasty and presentable results and helps you prepare vegetables for various other preparations.
Note that this process is suitable for all green vegetables, beans, zucchini, broccoli, spinach, peas, etc. It is also suitable for cauliflower, carrots, celeriac, etc.
Attention! Not recommended for potatoes which should be cooked at a slow boil.
See how to boil vegetables correctly, following the photos order.
Place a pan of water on the heat.

The quantity of water must be adequate in relation to the quantity of the vegetable you wish to boil;

otherwise as soon as you place the vegetables in the pan, boiling will cease and will take time to return. The additional time spent by the vegetables in the water will cause them to lose their intense green color.

Season the water generously with salt so that it tastes like sea water.

Don't worry: if you boil the vegetables for as long as necessary they will not be too salty.

As soon as the water comes to a lively boil, add the vegetables.

Boil the vegetables until softened to taste.

Remove vegetables from the water.




If you don't want to serve them immediately or warm, place in water with ice.

Drain the vegetables and dry well.

Store in the fridge.