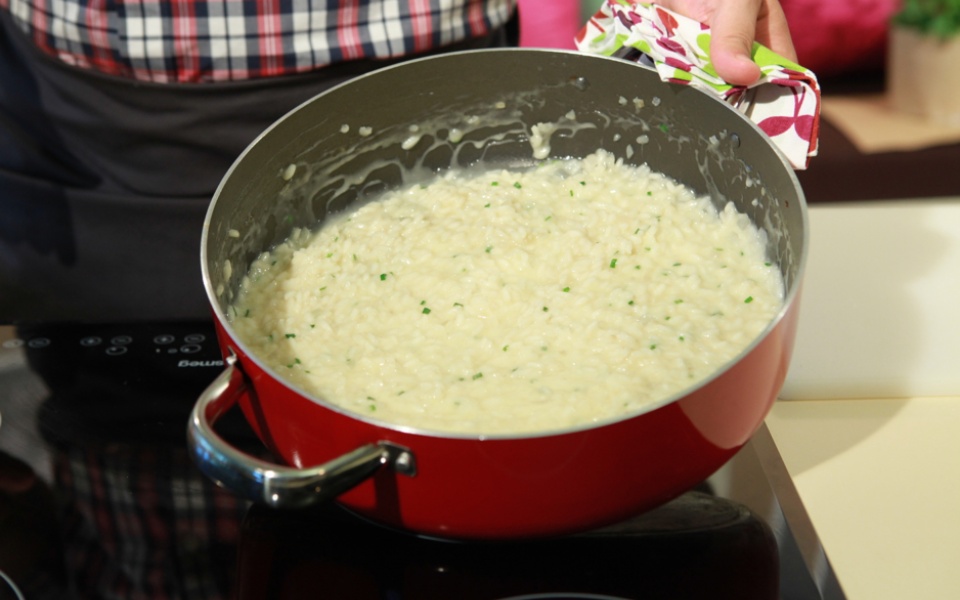 See how to cook a risotto, following the photos order.
Choose the right pan.

The right pan for the preparation of a risotto must be shallow.

Its size depends on the quantity of rice which, in order to be cooked correctly must have enough room to spread out while cooking and not build up in height.

Heat the stock and keep it warm throughout the preparation process.

This helps maintain the boil of the risotto and helps achieve the creaminess of its texture.

Place the pan over medium to high heat and sauté the onion with olive oil or butter.

Cook until soft and slightly golden.

Add the rice and sauté for about 2-3 minutes.

Add the wine.

The wine should evaporate almost immediately.

Allow to evaporate completely before adding the stock.

Add the warm stock in small quantities stirring constantly and allowing all the liquid to be absorbed before adding more.

The quantity of stock required each time must be enough to almost cover the rice.
Stir constantly and make sure the boil is low but apparent.

Add the remaining ingredients depending on their cooking time.

The tastiest risottos contain ingredients that are added raw. It is, however, quite difficult to synchronize the cooking times of various ingredients so that the end result contains harmonized flavors and textures.

An alternative solution is to add the ingredients already cooked or partly cooked. For an asparagus risotto, for example, you could boil the asparagus, chill and add at the end of the cooking time. You can restore any lost flavor by using a stock made from the stems of the asparagus in the risotto or even boil the asparagus in the stock you are planning to use for the risotto. Using this method makes the preparation of a risotto easier and I strongly recommend it to all novice cooks.

Continue adding stock until the rice is al dente and the risotto has the required creamy and moist texture.

The level of cooking of the grain and how moist the risotto should be depend on personal taste.

My personal preference regarding the cooking of the rice for risotto is for the grain to be cooked al dente and the mixture to be moist and creamy with the consistency of lava.

If necessary, add a little more stock or water or cook the rice for a few more minutes as required.

Remove pan from the heat and add Parmesan and butter.

In some risottos you can reduce or even avoid the use of parmesan.

Butter, however, apart from adding flavor, is important for the final texture of the risotto since it helps homogenize all its ingredients even better.

Cover the pan and allow to rest for 2-3 minutes.

In Italian, this step is called mantecare and results in the risotto having an even better texture.